Latest News from the Pro at Kington Golf Club
Rules Modernisation Summary
Rules Modernisation
As you may have heard the R&A and the USGA have announced a major set of proposed changes to the Rules of Golf. These changes result from a Rules Modernisation initiative that began five years ago in an effort to bring the Rules up to date to fit the needs of the game today globally. The following summarises the proposed rule changes for your information.
The R&A invites you to provide feedback - follow the link HERE:
Here are the major proposed changes for 2019:
Promoting Faster Pace of Play
Encouraging you to play promptly: It is recommended that you make each stroke in no more than 40 seconds – and usually more quickly than that - once it's your turn to play.
Playing out of turn in stroke play ("ready golf"): This has always been allowed without penalty, and now you are affirmatively encouraged to do so in a safe and responsible way for convenience or to save time.
New alternative form of stroke play: The Rules recognize a new "Maximum Score" form of stroke play, where your score for a hole is capped at a maximum (such as double par or triple bogey) set by the Committee, so that you can pick up and move to the next hole when your score will be at or above the maximum.
Other changes to help pace of play: The simplified dropping procedure, reduced time for ball search, expansion of penalty areas, greater use of red penalty areas and ability to putt with the flagstick in the hole should all help pace of play as well.
When Things Happen to Your Ball in Play
Ball at Rest Accidentally Moves
Accidentally moving your ball while searching for it: There is no longer a penalty.
Accidentally moving your ball or ball-marker when it is on the putting green: There is no longer a penalty.
New standard for deciding if you caused your ball to move: You will be found to have caused your ball to move only if that is known or virtually certain (that is, it is at least 95% likely that you were the cause).
Replacing a Moved or Lifted Ball
New procedure when you don't know the exact spot where your ball was at rest: You must replace the ball on its estimated original spot (rather than drop the ball at that spot); and if the estimated spot was on, under or against growing, attached or fixed objects (such as grass), you must replace the ball on, under or against those objects.
Ball in Motion Accidentally Deflected
Your ball in motion accidentally hits you, your equipment, your caddie, someone attending the flagstick for you or a removed or attended flagstick: There is no longer a penalty (such as when your ball bounces off a bunker face and hits you).
Standards of Conduct and Trusting Players Integrity
Insisting on High Standards of Conduct and Trusting Player Integrity
Playing in the spirit of the game: New provisions are added to reinforce the high standards of conduct expected from all players on the course and the Committee's discretion to disqualify players for serious misconduct.
Code of player conduct: Committees are given authority to adopt their own code of player conduct and to set penalties for the breach of standards in that code.
Elimination of need to announce intent to lift ball: When you have good reason to lift your ball to identify it, to see if it is cut or cracked or to see if you are entitled to relief (such as to see if the ball is embedded), you are no longer required first to announce to another player or your marker that you intend to do so or to give that person an opportunity to observe the process.
Reasonable judgment standard: When you need to estimate or measure a spot, point, line, area or distance under a Rule, your reasonable judgment will not be second-guessed based on later evidence (such as video review) if you did all that could reasonably be expected under the circumstances to estimate or measure accurately.
Created: 15-May-17 11:10
May Pro Shop Newsletter
To read my May Pro Shop newsletter, please click here
Created: 11-May-17 18:51
April Pro Shop Newsletter
To read my April Pro Shop newsletter, please click here
Created: 20-Apr-17 09:59
Pro Tips March 2017
Teaching Zone
Teaching Zone
We have teamed up with Irish Golfer Magazine, the perfect place to read all your Tour news, product reviews and golfing features, to bring you a brand new Teaching Zone.
We will bring you hints and tips from some of the top coaches in Ireland as well as health and fitness guidance.
Click the banner to read the full tip click here to sign up to Irish Golfer's FREE digital edition.
Created: 22-Mar-17 09:29
Pro News Update March 2017
Product Spotlight - Footwear
Adidas - ADIPOWER BOUNCE
New to the range is the Adidas Adipower Bounce WD Golf Shoes. Offering great value for money, the Bounce shoe incorporates Climastorm Stretch Microfibre Leather offering the durability and protection you expect from a great footwear brand. The Adipower Bounce WD shoes provide great comfort, with a full length Bounce Foam midsole, a FitFoam GEO collar and a CloudFoam EVA sockliner offering ultimate properties in cushioning and golfing comfort.
Adidas - ADIPURE FLEX
A tour performance last has specifically been designed to provide a wider forefoot area for an improved fit, feel and overall comfort. A lightweight fitfoam PU sockliner has been used to provide excellent walking comfort, cushioning and support.

Adidas have used a lightweight synthetic upper with climaproof technology to deliver an excellent combination of comfort, performance and protection from the elements.

The Adipure Flex golf shoe features a low-profile outsole design that will keep you closer to the ground with enhanced stability through your golf swing. A 7-cleat configuration will provide enhanced stability, traction, durability and green friendliness for all round performance.
Adidas ADISTAR LITE BOA WOMENS
Microfibre leather upper with climastorm water resistant protection from the elements
Features brand-new L6 BOA® closure system conveniently located on the lateral side for easy, customisable adjustment and improved lateral stability
Cloudfoam insole provides ultra-light cushioning and comfort
Wider midsole-outsole platform to provide the stability golfers require
6-spike puremotion® outsole featuring Swing Plane Traction for enhanced flexibility and grip
New low profile thintech® EXP cleat offers improved stability, traction, durability and green friendliness
Sizes 3.5 - 8.5
Available in 3 colours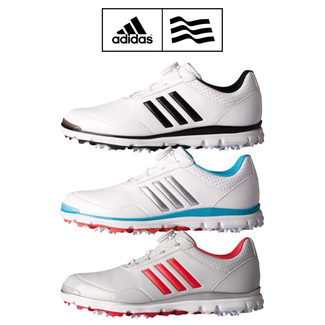 MIZUNO NEXLITE
The ultra-light 275 gram shoe engineered by Mizuno's award winning running team – for golfers who walk the course. The NEXLITE is a spikeless, summer shoe built on the patented Mizuno WAVE platform for long lasting cushioning and stability.
The Sofrina SK upper is used to reduce the total weight, whilst remaining breathable, lightweight and waterproof. An Impact Grip system ensures stability through the ball and a solid powerful base in firmer conditions.
FOOTJOY D.N.A
D.N.A. is the most feature packed FJ shoe ever. A lightweight cushioned Fine Tuned Foam (FTF) fit-bed provides optimum underfoot comfort and heel support. ChromoSkin leather, developed by Pittards of England, is supple, lightweight, durable and 100% waterproof. A 3D FoamCollar moulds to the ankle for unsurpassed support, comfort and fit.
These are just a selection of the new shoes that we currently have in stock, there are more in store, and remember, if there is a particular make or model of shoe that you would like, please just ask and we can order them in for you.
The Worst Shots of The Masters
With The Masters, the traditional curtain raiser to the golf season, just a matter of weeks away we thought we'd give you a video with a difference.
Usually in the build up to Augusta we see the greatest shots ever hit on the famous fairways, but this time, how about the worst?
Even the world's best can fall apart when faced with the lush green fairways and pink azaleas at Augusta National.
A couple of notable absentees from this list include Rory McIlroy's drive at the 10th in 2011 and of course Jordan Spieth's collapse at 12 in last year's tournament.
Created: 21-Mar-17 11:19
Archives